Welcome!

Parents for Skateparks seeks to connect kids of all ages to resources for building skateparks in their very own neighborhoods. We support skateboarding advocacy in all shapes and sizes, and by people from all walks of life, with or without children of their own. Our work is focused on expanding the traditional "stroller set" paradigm of playground design and construction to include and encourage the skaters of the future. We believe this is a positive way to help our kids be happy, healthy citizens of twenty-first century America.
SeaSk8v5


Parents for Skateparks salutes the united advocates of Skate Like a Girl (SLAG), Youth Employment Skateboarding (YES), and the Seattle Skatepark Advisory Committee (SPAC) in their quest to build a sustainable, inclusive skatepark for all in Downtown Seattle, for the fifth time.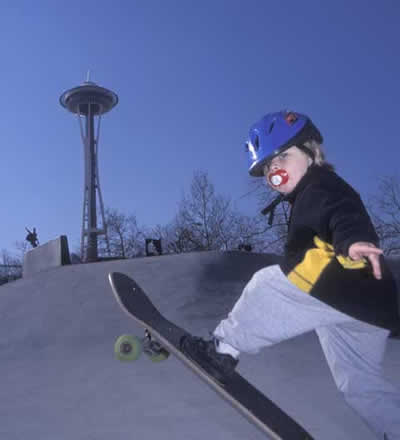 Cash Stephens, SeaSk8 version 3 Originally built in wood, then metal, and finally concrete (twice), the Seattle Center Skatepark (SeaSk8) is slated for demolition, again, as part of the Oak View Group Memorandum of Understanding with the City of Seattle to redevelop Key Arena. $1.5M has been allocated to rebuild a $2.9M, 10,000 square foot skatepark.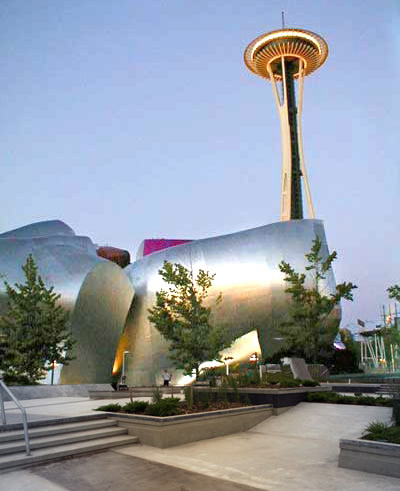 Photoshop Rendering of Kettering, Ohio skateplaza, EMP, and Space Needle by Peter Whitley, Tony Hawk Foundation In 2007, the SPAC wrote a memo outlining criteria for appropriate siting of the current skatepark. A new skatepark should support these criteria, and also support skatepark programming provided by SLAG.

SLAG Executive Director Kristin Ebeling, SeaSk8 version 4 At SeaSk8v4 alone, SLAG serves 250 youth each year through free and fee-based skate camps. Throughout Seattle and the West Coast, SLAG serves a much greater youth population through skate clinics and camps in public skateparks. The SLAG home office has been located at SeaSk8v4 since it was built in 2009. A new skatepark should support this important community! For emerging details, news, and ways to participate in Seattle's latest public skatepark campaign, send email to Parents for Skateparks Director Scott Shinn. Thanks for your support!